5 Tips for Dealing with Nut Allergies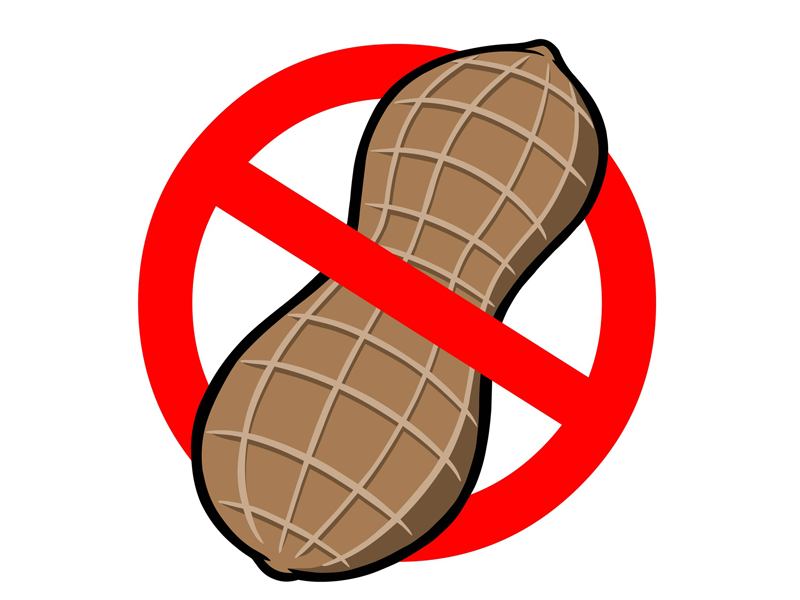 Peanut Patrol: 5 Top Tips For Living With A Child's Nut Allergy
Managing a serious nut allergy can be a daily struggle, particularly when you're young.
If your child has a nut allergy, it's vital to educate them, and yourself, on how to tailor their diet and lifestyle accordingly. Different people will react in different ways to food allergies. Sometimes the same person can react differently at different times.
In very severe cases people can experience anaphylactic shock. Anaphylaxis will usually start quite suddenly and quickly worsen with people experiencing difficulty breathing, rapid heartbeat, and loss of consciousness. If not treated quickly anaphylactic shock can be life threatening.
We've compiled 5 handy tips to help you deal with life with a nut allergy:
1 | Teach Your Child Not To Share Food
It will no doubt become a matter of habit when it comes to reading the label and checking the menu for nut content in your child's food. Doing this with your child from a young age and educating them early on how their allergy can be triggered, which foods they need to avoid, and to never assume that other people will have the same understanding, can make the difference between life and death.
A well-meaning school friend innocently offering to share a tasty treat at playtime, without knowing it may contain traces of nuts could have devastating consequences. By teaching your child to be conscious about sharing their food and understanding the reasons why you can help them to not only avoid these situations but to also to educate others around them.
2 | Make Others Aware
Living with an allergy can have a big impact on how you interact with others. From socialising with friends and family to managing life at work and school, and just generally being out and about in public, it can all get very stressful.
Explaining your child's nut allergy to friends, family, and caregivers is a must if you are to manage a nut free lifestyle. We suggest creating clear set guidelines for those closest to you to help them understand what foods your child can and cannot eat and what the consequences of their food allergy mean.
Don't be afraid to speak out in public and let your child know it's ok to do the same. You will find that most people will sympathise with your situation and will refrain from eating their peanut-based snacks when you explain it can cause your child to have difficulty breathing.
There are plenty of support groups out there for families living and dealing with allergies. Take a look at Anaphylaxis Campaign for more information and support.
3 | Plan Your Travels
Before jetting off on your holidays, make your travel company and airline aware of your child's allergies. Whilst many airlines cannot guarantee a nut-free flight, cabin crew will often make an announcement prior to flying to make other passengers aware. Most airlines also have trained staff on board to recognise the symptoms of anaphylaxis and how to deal with such medical emergencies.
Whilst it's can't be guaranteed that passengers will not bring their own peanut-based snacks on to the plane, many airlines are happy to suspend serving peanuts during a flight. It's also advisable to take your own food and snacks in case an airline cannot guarantee that their in-flight meals do not contain traces of nuts.
FARE (Food Allergy Research & Education) offers some excellent advice on travelling with a food allergy.
4 | Wear Allergy Alert Jewellery
Wearing an easily identifiable allergy alert wristband is a great way to remind your child and those around them of their allergy. It also helps to inform paramedics and medical staff of the situation should your child not be able to communicate this to them.
Allergy Kids has created these colourful and eye-catching wristband designs just for children. They are 100% hypo-allergenic and latex free too!
5 | Be Prepared - Always Carry Your EpiPen
It's an obvious one but sometimes we do forget things. Make sure you carry an EpiPen with you at all times. National guidelines actually state that you should carry at least two, particularly if your child has a history of anaphylactic shock!
Tell your friends, family and your child's school where you keep your EpiPen. Show others how to use it, in case you or your child is unable to. The EpiPen website has a useful guide to using your EpiPen and Trainer Pen, including a useful EpiPen demonstration video.
Peter McCulloch